REAch2
Reach2 Academy Trust Governance
REAch2 is a charitable voluntary organisation which relies on the valuable input of a considerable number of non-executive volunteers, supported by an experienced team of staff.
The governance principles of REAch2 recognise the importance of developing relationships with a common purpose and they are about developing processes and structures. The effective governance of the Trust is supported by:
Trust members – the guardians of the constitution

Trust Board – the Directors / Trustees

Trust sub-committees

Regional Boards and their sub committees – including Regional Ambassadors

Local Governing Bodies – the local governors

The Executive Team
'Exceptional opportunities for learning' - the shared vision and values of REAch2.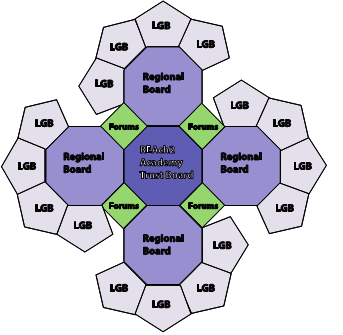 REAch2 – North Central Region
REAch2 is a large organisation with 55 Primary schools across many parts of England. To effectively provide high quality support to all REAch2 schools a regional model has been adopted. There are four regions; South Central, North Central, The Midlands and East Anglia.
Our school is in the North Central Region along with the following schools:
Brampton Primary Academy

(Bexleyheath)

Chapel End Junior Academy

(Walthamstow)

Chigwell Primary Academy

(Chigwell)

Civitas Primary Academy

(Reading)

Concordia Academy

(Romford)

Dorothy Barley Junior Academy

(Dagenham)

Garden City Academy

(Letchworth Garden City)

Langtons Junior Academy

(Hornchurch)

Minerva Academy

(Edgeware)

Pemberley Academy

(Harlow)

Purfleet Primary Academy

(Purfleet on Thames)

Ranihket Primary School

(Redbridge)

The Palmer Academy

(Reading)

Water Lane Primary Academy

(Harlow)

Wilshere-Dacre Junior Academy

(Hitchin)
REAch2 staff
All staff whether they work full-time within a school or work for the Central Educational Team are REAch2 staff. Therefore we are requesting that you add to the leadership part of your staffing structure the names of the team that are there to support the North Central Schools. These are:
| | |
| --- | --- |
| Mrs G Ellyard | Executive Principal – North Central Region |
| Mrs J Johnson | Associate School Leader |
| Miss J Griffiths | Associate School Leader |
| Mr M Rahman | Associate School Leader |
For further information on REAch2, please visit their website: http://reach2.org/.
Woodside became an academy in 2012 - for further information on academies please click here.
REAch2 Academy Trust is a charitable company limited by guarantee registered in England and Wales with company number 08452281. Registered office address: Scientia Academy, Mona Road, Buton-on-Trent, Staffordshire DE13 0UF.