Listening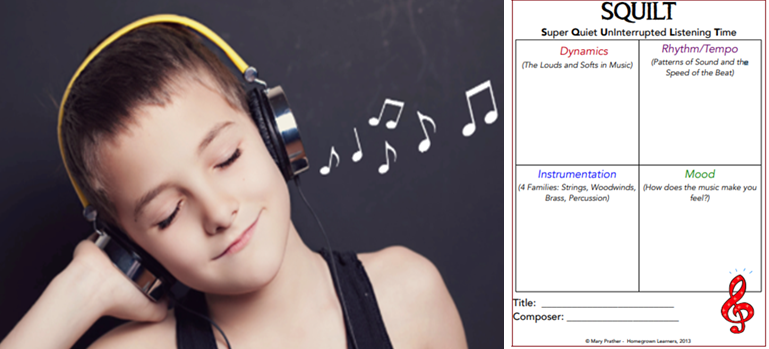 Listening to music is a fantastic way to relax but it is also a brilliant way of developing our minds and analysing and comparing different pieces of music.
I'd like you to listen to the below pieces of music and think about the dynamics, the tempo, what instruments you can hear and how the music makes you feel.

Tchaikovsky - November https://www.youtube.com/watch?v=190gie0xZXw
Commissioned in 1875, Tchaikovsky wrote a set of 12 character pieces (one for each month of the year) for solo piano. They are often arranged for symphony orchestra as well. "November" (also known as "Troika") is one of the more popular. You can hear the jingling sleigh bells (in the right hand of the piano version – and the actual sleigh bells in the orchestral version), which was common on Troika rides in Russia (Tchaikovsky's home country).
Mason Williams – Classical Gas
https://www.youtube.com/watch?v=EEzyrpfrPEI
"Classical Gas" (formally known as Classical Gasoline) is an instrumental musical piece composed and originally performed by Mason Williams with instrumental backing by members of the Wrecking Crew. Originally released in 1968 on the album The Mason Williams Phonograph Record, it has been rerecorded and rereleased numerous times since by Williams.

Beethoven 5th symphony
https://www.youtube.com/watch?v=fOk8Tm815lE
Symphony No. 5 in C minor, Op. 67 is a symphony by Ludwig van Beethoven. It is the fifth of his nine symphonies. It was written between 1804 and 1808. This symphony is one of the most popular and well-known works of classical music. There are four movements: an opening sonata allegro, a slower andante, and a fast scherzo which leads straight in to the finale.
Yann Tiersen - Comptine d`un autre ete - l`apres-midi
https://www.youtube.com/watch?v=NvryolGa19A
Yann Tiersen (born 23 June 1970) is a French musician and composer. His musical career is split between studio albums, collaborations and film soundtracks. His music involves a large variety of instruments; primarily the guitar, piano, synthesizer or violin together with instruments like the melodica, xylophone, toy piano, harpsichord, accordion and typewriter. "Comptine d'un autre été : L'après-midi", which is featured on Amélie's soundtrack.