Community Support
Covid -19 Useful community links and information for families
Mental Health & Wellbeing
During this time when we are staying at home or working in unusual circumstances it is very important to take care of our own mental health and look out for the wellbeing of those around us; we are not only facing the deaths as a result of COVID19 but also due to the mental health fallout. This is particularly pronounced in middle aged men – remember the recipient of our Christmas charity single 'Stay Another Day' – Calm, which supports men suffering with depression and at risk of suicide: https://www.thecalmzone.net/
Mentally Healthy Schools has produced an updated coronavirus toolkit that includes more resources to use with vulnerable children or children with SEND, signposting from Stonewall for the LGBTQ+ community, as well as a resource pack for staff wellbeing and practical activities for adults and children to help stay mentally well.
Visit the Council's website to access a range of mental health resources for adults and children, including the Five Ways to Wellbeing, Every Mind Matters, and Kooth. This page also has information about what to do if you are experiencing abuse or violence at home, as restrictions have increased that risk.

Domestic Abuse
The lockdown can increase the risk of domestic abuse.
Those affected by domestic abuse are encouraged to carry a mobile phone at all times if possible. If you are in immediate danger call 999.
If you are worried about your safety or about the safety of a friend or neighbour, or want to talk to a trained domestic abuse specialist call the following free 24/7 domestic abuse helpline:
Getting support to stop domestic abuse counts as an essential reason to travel.
Access support from a specialist worker if you are unable to access phone and online support, and you are not self-isolating:
Leyton Children and Family Centre
215 Queens Road E17 8PJ
between 10am and 4pm every week day
You do not need to have a child to access this service. We are operating the service in accordance with government guidelines so will be implementing physical distancing.
If you are worried about your own harmful behaviour and think you might be at risk of hurting your partner or family contact the Respect help line: 0808 802 4040 / www.respect.uk.net.
Community Support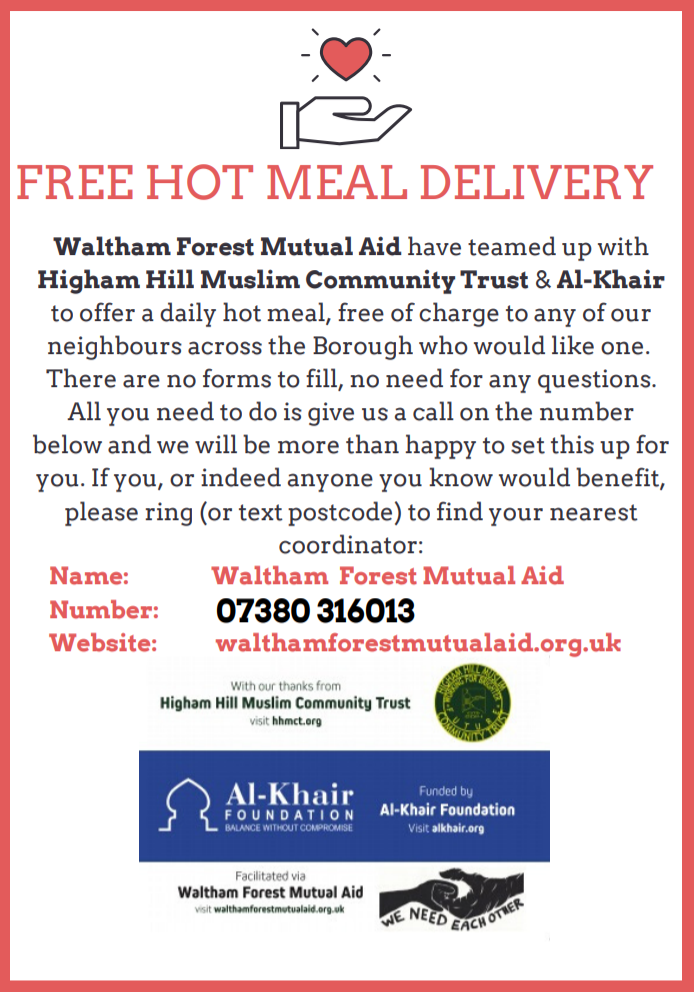 Local Welfare Assistance, such as food vouchers and essential household items-
https://walthamforest.gov.uk/content/local-welfare-assistance-lwa

Discretionary Housing Payments may be available to top-up housing-related benefit for a limited time to cover housing costs such as rent-
https://walthamforest.gov.uk/content/discretionary-housing-payments

Discretionary reduction in Council Tax-
https://walthamforest.gov.uk/content/discretionary-council-tax-hardship-scheme

Local Support Networks:
Waltham Forest has a community of mutual aid networks springing up, for more details follow:
https://www.facebook.com/groups/wfcoronavirus/
Or, to find your local listing: https://covidmutualaid.org/
NSPCC - Mental health support: https://www.nspcc.org.uk/keeping-children-safe/childrens-mental-health/depression-anxiety-mental-health/
Food banks
https://www.trusselltrust.org/get-help/find-a-foodbank/ - this website is a portal that allows you to input your postcode and gives you a list of foodbanks
Rukhsana Khan Foundation - Food Bank - Unit 19 The Alpha Business Centre, 60 South Grove, London E17 7NX. 10:00am – 12:00pm on Saturday mornings only. Who to contact Telephone 07939 232 123 E-mail rukhsanakhanfoundation@outlook.com Website https://www.rukhsanakhanfoundation.org/
Food Bank at Elim Pentecostal Church Who to contact Telephone 020 8539 2286 E-mail elimleytonstone@aol.com Website http://www.elim.org.uk
Eden Girls School, Waltham Forest Blackhorse Lane – Every Friday 1pm -3pm
Salvation Army Food Bank – The Salvation Army ,434 Forest Road, Walthamstow, E17 4PY – Telephone number -0208 521 3029 – contact – Walthamstow@salvationarmy.org.uk – website https://www.salvationarmy.org.uk/walthamstow​
Eat or Heat ( Foodbank) – 1A , Jewel Road, Walthamstow, E17 4QU – Email : info@eatorheat.org – website : http://eatorheat.org/- PDF referral form attached below.